On May 4th, Google started to roll out a major update to its algorithm. They call it a "core" update because it's a large change to their algorithm, which means it impacts a lot of sites.
To give you an idea of how big the update is, just look at the image above. It's from SEMrush Sensor, which monitors the movement of results on Google.
The chart tracks Google on a daily basis and when it shows green or blue for the day, it means there isn't much movement going on. But when things turn red, it means there is volatility in the rankings.
Now the real question is, what happened to your traffic?
If you already haven't, you should go and check your rankings to see if they have gone up or down. If you aren't tracking your rankings, you can set up a project on Ubersuggest for free and track up to 25 keywords.
You should also log into your Google Analytics account and check to see what's happening to your traffic.
Hopefully, your traffic has gone up. If it hasn't, don't panic. I have some information that will help you out.
Let's first start off by going over the industries that have been most impacted…
So what industries were affected?
Here are the industries that got affected.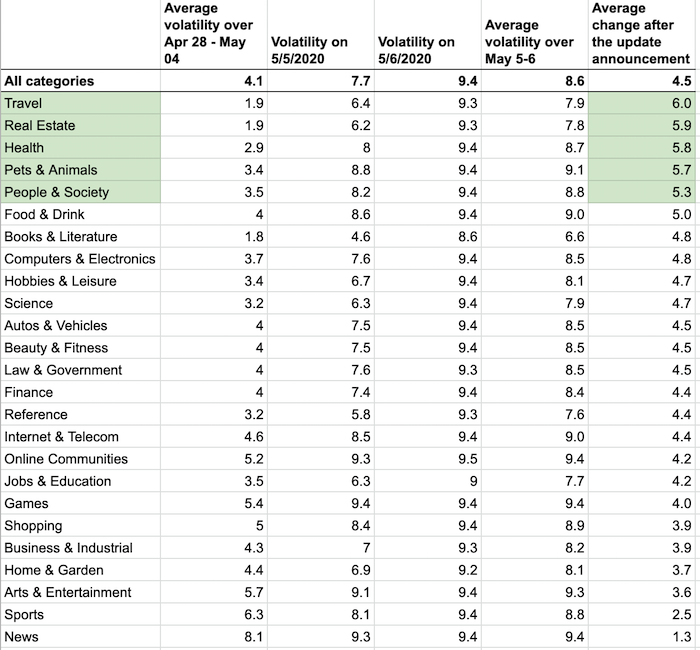 As you can see, travel, real estate, health, pets & animals, and people & society saw the biggest fluctuations with rankings.
Other industries were also affected… the ones at the bottom of the list were the least affected, such as "news."
There was also a shakeup in local SEO results, but that started before the core update.
Read full post